10 Fun Spanish Restaurant Phrases
To practice using every time you dine out in Mexico!
For me, one of the most exciting parts of living in Mexico is being able to enjoy the amazing, fresh, and flavorful cuisine. But it's not just about the food! Dining out is an opportunity to connect with the locals and culture. Being able to sprinkle in a little Spanish into dining experience adds another level of fun, adventure, and enjoyment to the excellent food.
To spice up your next dining experience, I've picked 10 Spanish restaurant phrases that are easy to learn and fun to use. Each example has an audio clip so you can hear how the word and phrase sounds in Spanish.
¡Disculpe!
Excuse me…
Need to get your server's attention in a busy restaurant? Just say disculpe and raise your hand up to catch their eye.
¡Disculpe! Necesito un tenedor, por favor.

Excuse me! I need a fork.
This phrase can be used ANYWHERE anytime you need to get someone's attention.
¡Disculpe! ¿Dónde está el baño?
Excuse me. Where is the bathroom?
Quiero
I want…
I know it sounds direct to say 'I want a coffee' when placing an order, but this normal and natural in Mexico. Just follow it up with a 'por favor' (please) and it sounds very polite.
Quiero un café negro, por favor.
I want a black coffee, please.
Note: You do not need to say YO quiero here. The YO is redundant. In fact, if you add the YO, it sounds like you are adding emphasis to the statement like YOOOOO quiero a coffee
Para mí
for me….
Para mí, una naranjada con hielo, por favor.
For me, an orange-lemonade with ice please (A naranjada like a lemonade that is made with orange juice instead)
Careful with the pronunciation here! You will want to say this like: pah-rah me. As English speakers, we tend to say 'pera' like paramedic or parachute. 'Pera' actually means 'pear' in Spanish.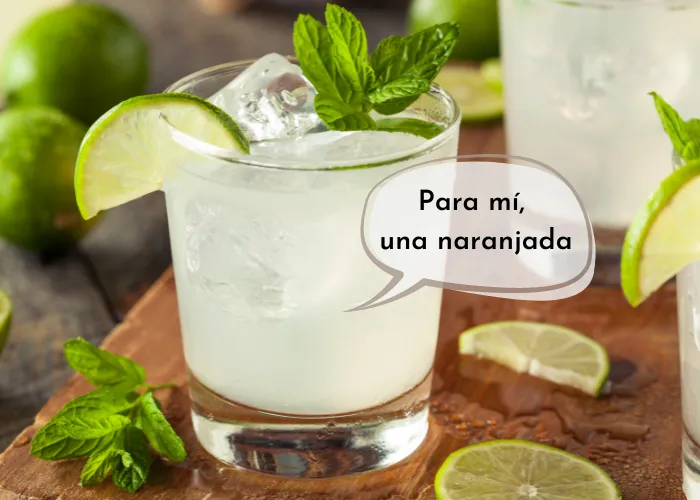 Sin
without
Is there a certain ingredient you can't stand? Then you might want to start specifying which ingredients you want removed from your restaurant order.
Quiero 4 tacos de pastor SIN cilantro, por favor.
I want 4 pastor tacos without cilantro please.
Have you been saying 'no cebolla'? It's time to break that bad habit (which is incorrect) and start saying SIN cebolla instead.
Con
with
Sometimes need to say which ingredients you would like have included in your restaurant order. If you'd like to ADD an extra ingredient to your order (like extra cheese please!). To do this, you can use the word CON (with) + the ingredients you want.
Una crepa con chantillí, fresas, chocolate, y plátano.
A crepe with whipping cream, strawberries, chocolate, and banana.
The way I learned 'con' and 'sin' was by looking at the sticks of butter in the grocery store. If you would like to have salted butter, be sure to look for the one that says 'con sal'. Most of the butter in Mexico is unsalted 'sin sal'.
Start Speaking Spanish

&
 Do it with Confidence!
Learn Spanish that will be immediately useful in your real life, get the practice and feedback you need.
Book a FREE Trial Lesson to Get Started!
Un momento más
Another moment
With so many good options on the menu (or maybe needing some extra translation time…), you may need to ask for few extra minutes to figure out what to order at the restaurant.
¿Listo para ordenar? Un momento más, por favor.
Ready to order? One more moment please.
The word 'listo' means 'ready' and it will change depending on WHO you are referring to:

A woman dining alone – ¿Lista? (feminine)
A single man at a table – ¿Listo? (masculine)
A couple out on a date – ¿Listos? (mixed gender- plural)
Two ladies out for lunch – ¿Listas? (feminine plural)
Uno más / Una más
Another one!
Ready to order another drink or maybe you can't resist another one of those delicious tacos? You can say 'uno más' or 'una más' to ask for another one.
Ordering another cerveza (beer), margarita, or limonada?
¡Disculpe! Una más, por favor.
Excuse me! One more please.
Uno más, por favor.
Another one please
Provecho
Enjoy your meal
This is one of my favorite Spanish restaurant phrases! It is like the 'bon appetit' of Spanish. Listen carefully for this phrase the next time the server drops off your food to your table.
Provecho.
Enjoy your meal.
You can also use this if you are walking by person who is eating something. It is very polite and always appreciated when you say 'provecho' as you walk by. You might also hear 'Buen provecho' which is the full version of this phrase.
You're Probably thinking…
"These phrases are great, but I'll never be able to remember them in real life!"
Let me show you how easy it can be to remember what you've learned and actually USE it with my FRASE method. Book Your FREE Trial Lesson here.
Show your appreciation of the tasty food coming out of the kitchen with this phrase that tells the cook or server that you are really enjoying the food.
¿Todo está bien? Sí, está muy sabroso.
Is everything good? Yes, it is very flavorful.
Note: Está sabroso is the masculine version and está sabrosa is the feminine version. If you are still a beginner and you aren't sure which one to use, don't worry too much! You could be referring to 'la comida' (food – feminine) or 'el platillo' (meal – masculine). Unless you specific what you are referring to, the only one who knows what you are referring to is YOU and that information is inside your head ?
¿Me trae la cuenta?
Can you bring me the bill?
Do you find yourself asking for the bill in the exact same way every time? La cuenta, por favor.
To shake things up a bit, add these two simple words to create a full Spanish phrase that will really make you sound more like a local asking for their bill in a restaurant.
¿Algo más? No. Nada más. ¿Me trae la cuenta, por favor?
Anything else? No. Nothing else. Can you bring the bill please?
Be sure to put these phrases into action the next time you are out! Practicing what you have learned is a great way to make it stick and to start building on your foundations! 
How to Go from Zero to Function Fast in Spanish
If you start focusing on the Spanish that is highly relevant to day-to-day life in Mexico you will start making progress where you need it the most!
When you live in Mexico, you need to hit the ground running with your Spanish to quickly develop the functional skills you need to get by in day-to-day life.
And you need to start SPEAKING immediately.
The truth is that most courses and apps waste MONTHS trying to teach students by memorizing hundreds of words and practicing verb conjugations… Which, unfortunately does very little to develop communication skills.
and After 14 years of being stuck as a beginner Spanish student (following traditional methods), I finally hit a level of frustration that led me to try a different approach to learning.
In less than a year, my Spanish skyrocketed up to an advanced level as I learned how to learn a language effectively using practical techniques.
As an expat living in Mexico and experiencing the 'day-to-day' interactions, I see how EASY it can be to build a solid base of Spanish if you focus on the language used in REAL situations.
And that's why I developed the F.R.A.S.E method to help expats, snowbirds, and frequent vacationers to learn practical Spanish in lessons that teach you to SPEAK in full sentences from the very first lesson.
F – FUN and rewarding lessons that will keep you engaged and excited about learning
R – REAL life situations are the center of everything we teach
A – ACTIVE learning means you will constantly be using what you have learned in each lesson
S – SPEAKING is the main skill practiced in every lesson and activity
E – EFFECTIVE & EFFICIENT learning methods which were discovered from my own language learning success resulting in such rapid progress after years of struggling with ineffective learning methods.
And no, this isn't a 'survival Spanish course'…
Actually, all of the common situations use the most frequently words, verbs, and structures in the Spanish language.
Which means, you are learning how to handle certain situations WHILE learning the basic structural aspects of Spanish at the same time.
Join us in a LIVE sample lesson to experience the F.R.A.S.E method in action and see how much easier, fun, and intuitive learning Spanish can be!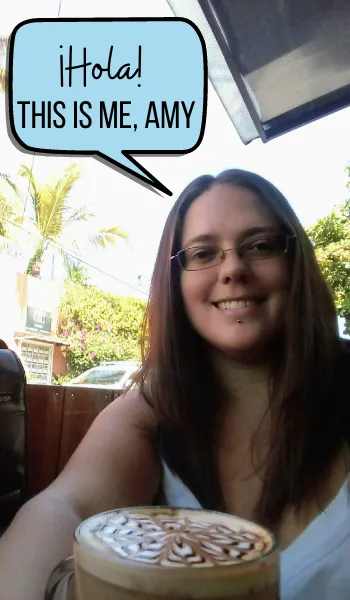 Get Started with a

Trial

Lesson
Choose a time below to get started!