It's

time to…




Stop Freezing Up

&
Fumbling in Spanish!
Be

Speaking Spanish

with Ease &
 

Enjoying

 Interactions

with the Locals
Use & Understand Phrases the Locals Use
Speak in Everyday Situations with Confidence
Have a Great Accent that is Easily Understood
I couldn't be happier with the progress I have made. I am so much more confident to speak & understand basic phrases in stores, restaurants, taxis etc. I highly recommend this course!
Taking this course gave me more confidence in speaking Spanish while in Mexico. I also found that I could pick up some parts of the conversations I overheard from others!
I loved being taught practical words & phrases that I needed immediately. We learned how to order in a restaurant, asking how much something cost, where something is in a store, etc.
It's time to
Stop

Freezing Up
& Fumbling in Spanish!
It feels like you have been learning Spanish FOREVER…
You STILL struggle to understand replies in simple interactions!
In the moment, it's so difficult to remember the words, phrases, and rules you've learned.
It feels like you just freeze up when it's your turn to speak.
It's NOT your fault and you are NOT alone!
Let me explain the TWO missing ingredients have been stopping you from having the success you deserve with Spanish
#1 You are

NOT

learning Spanish you can immediately go out and use

Instead, you spend weeks swimming in grammar and vocabulary before you can order a coffee in a simple sentence.
#2 For most courses, developing your speaking skills

isn't even on the radar
If you want to be able to SPEAK with confidence, you need to take lessons with a real human that can get you thinking, speaking, and interacting in Spanish. Not just repeating like a parrot and doing verb drills.
As an expat who struggled for over 14-years to learn Spanish
with these same outdated methods…
I have created a

6-week Fast-Track Course

that is

PERFECT

for you if:
You know the vocabulary you need but it takes you FOREVER to put together a simple sentence.
You feel EMBARRASSED when natives don't understand what you are trying to say even though
YOU KNOW YOU ARE SAYING IT RIGHT!
YOU CAN'T UNDERSTAND ANYTHING being said to you at the supermarket checkout, in the taxi, at the pharmacy, or while dining out.
You are FRUSTRATED that your Spanish isn't improving despite the hard work and time you have invested to reach the level you are at!
If you are experiencing any of the problems above…. 
I would like to introduce you to a very exciting course to SPEAK SPANISH WITH CONFIDENCE ON-DEMAND
Introducing….


The Expat Interactions

Fast Track Course!
1 hour weekly live session
Lessons filled with role play, practice, feedback, and fun. Finally giving you the speaking time you need to immediately see the difference
Maximum of 6 students per class
A small & intimate group of like-minded expats and travelers so learning is easy and enjoyable!
Printable Lesson Notes
To help you prepare for your upcoming lessons and easily review what was covered to keep things fresh.
18 Audio dialogues of variations of each interaction
To broaden your listening skills and train your ear to pick out and understand natural responses used constantly by locals in their day-to-day conversations
In This
6 Week Course

You Will
Give you TONS of speaking practice
Improve your accent and pronunciation
Understand and reply with phrases used by the locals
Help you to speak, think, and adapt your Spanish as needed
Create the confidence you need to USE your Spanish everywhere!
Are you ready to get rid of the

FEAR

&

FUMBLING
and to

START INTERACTING CONFIDENTLY

with the locals?
Get started by Choosing Your Course Start Date! 
Expat Interactions Course
Start Dates & Prices
Course Starting Every Month! 
• Contact us for exact dates and to complete the pre-course level evaluation to ensure you have the required Spanish level to join!
All courses are 6 weeks long with 1 weekly lesson that is 60-minutes long. Homework, flashcards, and review materials are provided to practice and prepare between classes. 
Expat Interactions
6-Week Course with Weekly Group Lessons
• 60-min group lessons online each week (max. 5 people)
• Online Course with lessons notes, activities, & homework.
• Audio Dialogues & Listening Comprehension Activities
• Flashcards System (with Audio) for Easy Review
• Number Mastery Course (0-1000) and Pronunciation Course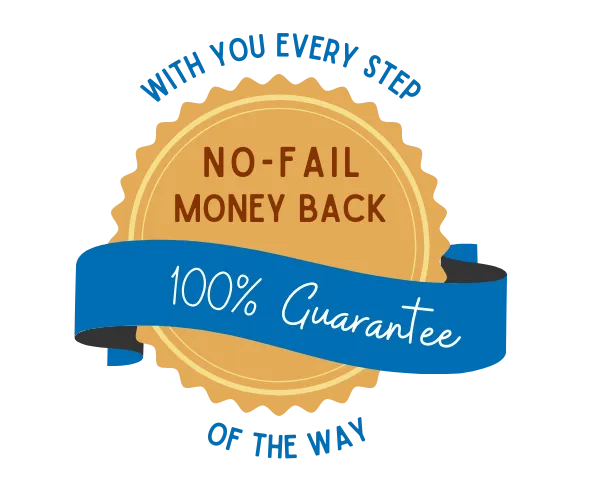 ✔

Our Bold No-Fail Guarantee

We are so confident in our method and courses materials that we guarantee your success with this course!

YOUR COMMITMENT: As long as you put in the work, attend and participate in every class, complete the required homework activities and review, you will be able to handle each of the role play activities by the end of the course.

OUR COMMITMENT: If we see that you are struggling or stuck at any point, you will be offered a private session to get you caught up OR we will re-enrolled in another course at no additional cost to give you the review and additional practice you need to confidently do the activities.

MONEY BACK GUARANTEE: If you register and we determine that our lessons are clearly not a good fit, we will immediately offer you a full refund. There is NO RISK to join and try this out.

We will be here to guide you, to keep you focused, motivated and to support you every step of the way. We want to see your results as much as you do, so don't miss out!
Book a Trial Lesson
See an example of the course material and allow our expert teacher to evaluate your level to ensure this course is a good fit for your needs.